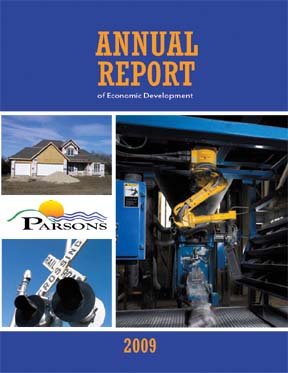 ANNUAL REPORT
The City of Parsons is pleased to present the 2009 Annual Report from the office of Economic Development. This report reflects the business activities of our local industries, expansion projects and new start-up businesses that chose Parsons to call home.
Also included in the report is a letter from our Director of Tourism which describes the growth of the hospitality industry in Labette County. New marketing materials were created and distributed in 2009 and 2010 which promote our outstanding outdoor recreation opportunities.
Our strategic planning process which was conducted by AngelouEconomics is outlined and sets the stage for our new website which focuses on our Target Industries: Agriculture & Life Sciences, Health Care Services, Advanced Manufacturing, Professional Services and Tourism & Recreation.