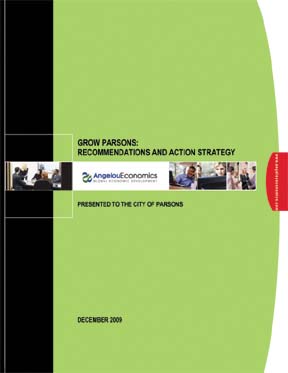 STRATEGIC PLAN
The City of Parsons was seeking to improve its competitive position through the development and implementation of an economic development strategy. AngelouEconomics was selected as the consultant to help guide us through the strategic planning process.
AngelouEconomics brought together a team of site selection consultants, economic development practitioners, planners and researchers to provide an innovative economic development plan for our city. This team completed a comprehensive community assessment, identified target industries based on the presence and strength of existing industry clusters, local and national industry growth trends, the competitive assets that makes Parsons a desirable location for specific industries, and the "fit" of the potential industry with Parsons' community vision.
The project team utilized the information collected from the previous studies to provide a comprehensive Action Plan and Implementation Strategy which contains recommendations for business climate, sites and infrastructure, quality of life, tourism, workforce development and education, and marketing and promotions.