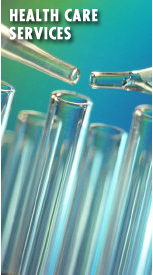 HEALTH CARE SERVICES
Industry Definition
Health care services include traditional industry segments involved in primary healthcare - doctors and dentist offices, assisted living centers, medical and diagnostic laboratories and hospitals. The health care services sector also covers home health care services, outpatient care centers, blood and organ banks, and ambulance services.
The health care services industry has, for the past decade, been one of the fastest growing in the United States. One of the primary drivers behind the growth of health care services has been a growing population of individuals age 65 and older. Between 1990 and 2007, the number of Americans 65 and older jumped by more than 6.5 million, an increase of more than 20 percent. With America's elderly population (which currently represents more than 12 percent of the country's total population) projected to grow much faster than the overall population, the demand for health care services will undoubtedly sustain prolonged periods of expansion over the coming decades as more than half of an individuals lifetime expenditures on health care occur after the age of 65.


PARSONS' ADVANTAGE
Support for entrepreneurial start-ups - Parsons has been extremely effective in its support of local entrepreneurs in a variety of industries. Health Care Services is no exception. A prime example is the city's excellent work assisting Cytocheck Laboratory find lab space for diagnostic testing and its continued support as the company looks to grow its business.
Strong local nursing program at Labette Community College - Labette Community College has a strong nursing program in place. The City of Parsons will work with Labette Community College and the local hospitals to ensure that local workforce training programs in nursing and health care services continue to be relevant to local health care strengths.
Exceptional Radiology Technology Program at Labette Community College - Labette Community College offers a 23 month program in radiography preparing students for careers as qualified radiographers (x-ray technologists).
Available incubator space - The availability of incubator space in Parsons creates opportunities for expanding existing diagnostic testing activities and also creates opportunities for new research and development locally.
Strong economic development support system - Parsons will continue its strong support of the local health care industry and foster its growth and diversification of services.
Parsons State Hospital & Training Center - ParsonsStateHospital and TrainingCenter (PSH&TC) is one of two residential treatment, training and care facilities operated by the State of Kansas to serve individuals with intellectual disabilities. The Hospital occupies 43 buildings on 163 acres. Major components include residential services, the UniversityCenter on Developmental Disabilities and the ParsonsResearchCenter for the University of Kansas, the SpecialPurposeSchool of the SoutheastRegionalEducationServiceCenter, and the Southeast Kansas Agricultural Research Center of Kansas State University.
University of Kansas Lifespan Institute at Parsons - The Schiefelbusch Institute for Life Span Studies at Parsons has conducted research in the field of developmental disabilities for over 40 years and has acquired an international reputation for its pioneering work with persons with disabilities. The Life Span Institute at Parsons is committed to optimizing the quality of life for individuals with disabilities and their families through research, training, technical assistance and public services. http://www.parsons.lsi.ku.edu/