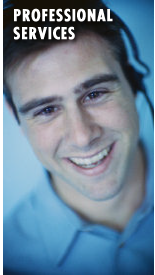 BUSINESS AND PROFESSIONAL SERVICES
Industry Definition
The business and professional services sector is comprised of primary services including legal, architectural, engineering, consulting, and real estate firms, as well as secondary services such as back-office support operations, accounting and payroll services, and processing facilities. Together, these services provide not only highly technical and specialized support services for virtually every sector of the U.S. economy, but also services to handle the routine, day-to-day activities of other companies. Business and professional services firms exist both as subsidiary operations for parent firms as well as outsourced third-party service providers. Back office operations, which interact primarily via electronic communication, often integrate a variety of functions such as customer relations, centralized accounting, and administrative services under one roof, while legal services, real estate, and technical consulting services are often located in independent branch offices.
The business and professional services sector has proven to be quite resilient to national and global economic swings and has remained stable even through the technology boom and bust of the early 2000s. Since 2004, employment has gained steadily due to the increase deployment of data centers to handle the tremendous growth in data storage, as well as the increase in consulting and legal services as more and more U.S. companies explore the complexities of growing internationally.
PARSONS' ADVANTAGE
Supportive structural assets- Business and professional services firms require reliable, affordable power, telecom and ISP services. Not only are Parsons' utilities general less expensive than metropolitan area hubs, but the city has a strong reputation for meeting business infrastructure needs quickly.
Existing facilities for purchase/lease- With six industrial parks in Parsons, the city has done an effective job of providing real estate options to accommodate new and expanding businesses.
Proximity to educational institutions offering business programs- There are seven post-secondary institutions within 50 miles of Parsons, including Pittsburg State University which is home to a nationally recognized business school and offers degrees in accounting as well as computer and informational sciences.
Responsive community college programs- Labette Community College has demonstrated a great ability to work with local businesses and keep their curriculum and training programs relevant to local business activities.
Strong entrepreneurial and economic development support system- Parsons residents have a strong entrepreneurial spirit and the the city has done a great job of supporting local small businesses and ensuring a strong success rate through incentive packages, including loans, grants and tax abatement.