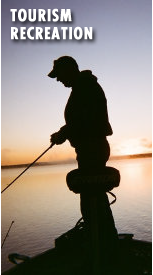 TOURISM, REGIONAL GOODS AND SERVICES
Industry Definition
The hospitality and leisure industry provides accommodations, entertainment, and recreation to a wide variety of tourists and visitors, as well as residents. The industry is primarily comprised of service jobs, with an emphasis on producing live performances of music, theater, dance, or other entertainment; providing recreational and sports opportunities for visitors and residents alike and providing customers with lodging and food & beverage options. This industry seeks new and innovative ways of entertaining visitors through cultural experiences, unique museums, live music and shows, or other attractions, and is increasingly focusing on serving trade conventioneers through accessibility to these diversions.
Regional goods and services is the combination of recreational activities and retail establishments which serve a regional market. Creating a regional destination locally is important for multiple reasons. Most importantly, a solid mix of recreational and retail options provides increased employment opportunities, increased sales tax revenue, and quality of life amenities which are not only important for existing residents and regional communities but also for the attraction of new talent and industries.
Retail is generally categorized as a locally serving sector that lacks a large-scale economic impact. However, targeting economic development efforts on the retail sector is different than targeting retail establishments. The goal of developing this target with Parsons is to provide the quality of life amenities that are important to build a healthy community and to attract the necessary workforce required by the other target industries. In addition, establishing a strong retail sector has a positive impact on the growth of Parsons as a regional destination, which provides an injection of outside dollars into the city.
PARSONS' ADVANTAGE
Events and festivals support a regional draw - Cultural and recreational activities such as the Katy Days Festival, the Downtown Parsons Art Walk, and fishing tournaments at Big Hill Lake provide opportunities for Parsons to differentiate itself within the region and draw residents from surrounding communities.
Museums and cultural amenities - Parsons is home to the Parsons Historical Museum, the Iron Horse Museum, the Carnegie Arts Center, Parsons Municipal Auditorium, and Seaton Family Pavilion which proved regional art and cultural amenities.
Local entrepreneurial spirit effective entrepreneurial support - The Retail Recruitment Grant has helped assist local entrepreneurs create 155 new small businesses over the last 10 years with a 72% success rate. This support is essential to development of additional niche retailers opening in the city.
An existing and successful niche retail base- There are currently several retail establishments which serve a regional market. Their success can be leveraged to encourage other retail developments which, while not competing with the same product, do share a similar customer base.
An award-winning downtown with available retail space - Parsons was named a 2006 Great American Main Street City for its redevelopment efforts and has been very successful at maintaining a thriving historic downtown with great retail opportunities.
Wildlife and natural resources - Outdoor Magazine ranked Parsons as a Top 10 whitetail deer hunting location in the nation. In addition, there is an abundance of water recreation opportunities in the area. Parsons will continue to market these local strengths in order to make Parsons a regional destination for outdoor recreation and leisure activities.
Ease of travel throughout the region - Workers commute long distances to work in the region. The ease of travel and short commute times thus creates opportunities to attract residents of surrounding counties for recreational and retail activities as well.